The Sky Pearl Club Newsletter
Use Your Mileages and Easily Get the Elite Tier in 2017
Now you get the chance to easily win the elite tier of China Southern Airlines' Sky Pearl Club. The qualified members are entitled to redeem the mileages to make up the difference of the Elite Qualification Segments(EQSs) or Elite Qualification Mileages(EQMs) between the number of the account and the elite tier standard. For Example, to achieve Gold Card tier is required 40 EQMs, but you only got 38 EQMs in 2016. Now you can redeem 4,000 mileages to make up the missing 2 EQMs and get Gold Card tier immediately.
You are required to reach:
35-39.5 EQSs or 70,000km-79,999 EQMs in 2016 for the Gold Card tier;
15-19.5 EQSs or 30,000km-39,999km EQMs in 2016 for the Silver Card tier.
You should pay 1000km for 0.5 EQS, 1km mileage for 1 EQM.
You must apply and redeem before 30 June 2017.
Please note that once the mileage is redeemed to make up the difference, it cannot be returned.
Redeem Now
Please log in your Sky Pearl Club membership account and click on the following button to redeem your mileages for the tier upgrade.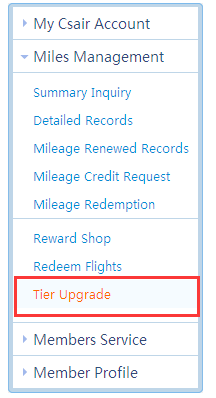 Terms and Conditions
1.To enjoy these offers, members must register the promotions before 30 June 2017 at www.csair.com.
2.The redemption mileages will be calculated based on the number of your member account at the time of application and be deducted automatically.
3.The new Silver or Gold card will be valid till February 28, 2018, and shall be effective upon receipt of the card.
4.The new Silver or Gold card will be sent out within one month after the online application and please make sure that the address and telephone of the recipient as registered in the membership account are correct and valid.