China Southern Airlines Launches Membership Retention Policy
for Women in Pregnancy & Postpartum Period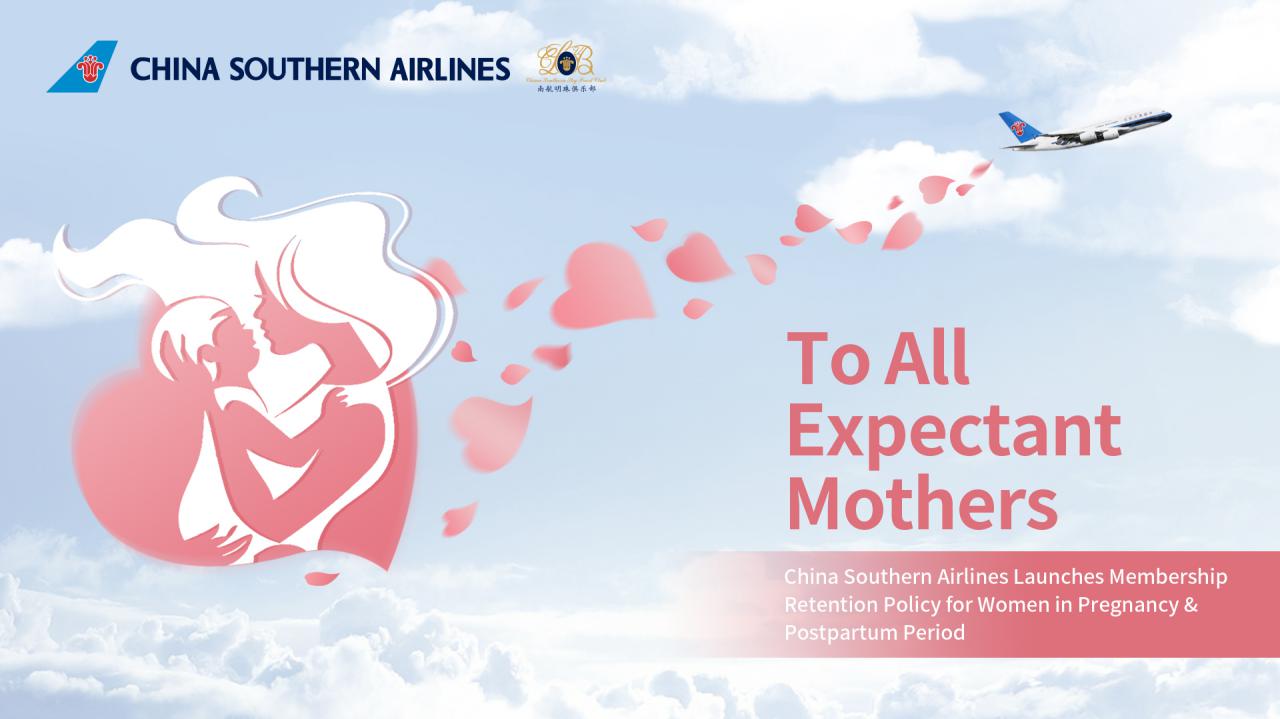 Guangzhou - China Southern Airlines, the largest airline in the People's Republic of China, shares in the glow of Motherhood and understands the pride of childbirth and affection to every newborn felt by all women. The airline also shares in challenges faced by women when travelling during their pregnancy.
To support all expectant mothers and give them the opportunity to enjoy stress-free family time and go through their pregnancy and postpartum period without added issues, China Southern Airlines is pleased to announce a new membership retention policy for female Elite FFP members during their pregnancy and postpartum period.
Beginning Sunday, May 12, 2019, all female Gold or Silver Card members of China Southern Airlines' Sky Pearl Club frequent flyer program who submit an application for membership retention during their pregnancy and postpartum period - before the date of assessment for membership retention - and provides a valid maternity certificate or a valid birth certificate for her child applicable to the year of assessment for membership retention, her Elite membership can be extended for one calendar year in the following year of her maternal leave.
When to Apply
Expectant mothers should submit their certificates before the end of the year of assessment for membership retention.
For example, if your Gold Card is valid until February 28, 2020, you have to submit valid documentation applicable to Year 2019 before December 31, 2019, to validate that your flights are less during Year 2019 - due to maternity - and request for the extension of your Gold Card validity in the following year.
How to Apply
Step 1: Mail application: To meet the required application conditions, please send a scanned (or electronic copy of the valid maternity certificate* or valid birth certificate as attachment) via e-mail to the Sky Pearl Club at skypearl@csair.com before the date of assessment for membership retention (December 31 of each year).
Please marked your envelope with your Sky Pearl Club membership number and "Application for Elite FFP membership retention during pregnancy and postpartum period".
Step 2: Confirm and review: After sending in the e-mail, please call the Sky Pearl Club 24 hour hotline at 95539 to confirm that the e-mail has been received.
China Southern Airlines will complete the review of all documentation by the 15th of the following month and at that time, members may view the results by checking the validity period of their membership.
Miscellaneous
1、 A valid medical certificate for maternity refers to the original certificate of diagnosis issued by the hospital at or above the county level, with the official seal of the hospital and the signature of its doctor. The certificate of diagnosis provided should include: name, age and time of pregnancy. The time of pregnancy and postpartum must be within the year of assessment for membership retention.
2、 A valid birth certificate refers to the Birth Certificate issued by the relevant state department, and the child's birth time must be within the year of assessment for membership retention.
3、 Each expectant mother and Elite FFP member may have two application opportunities.
4、 During the period of membership retention, if an expectant mother and Elite FFP member meets the upgrade conditions, she can be directly upgraded to a higher Elite level, with the new validity period subject to the new stipulations.
5、 Elite FFP membership retention is a discretionary benefit and membership in the Sky Pearl Club does not guarantee that the application will be approved. China Southern Airlines retains the right to request additional materials from the applicant during the review process and reserves the right to reject any application, change or withdraw this benefit at any tim